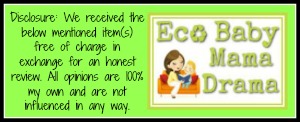 From babies first bite of solid foods through the "all by myself" stage choosing the right utensils can be crucial. BabyBjörn has designed a wonderful children's spoon that is an absolute hit in our home and I bet it would be in yours too ;). I'm so ecstatic we found BabyBjörn to make our meals easier and safe at the same time.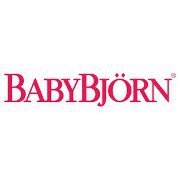 Made of plastics that are certified safe for foods, these brightly colored and friendly looking utensils are free from BPA, PVC, phthalates as well as cadmium, lead, bromine or chlorine free. Only safe materials from the BabyBjörn family to your table! When you are done with them you can even choose to be green as they are recyclable!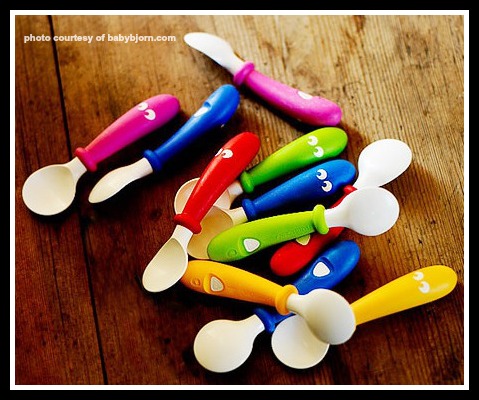 Tates just adores the funny eyes on each spoon and always makes faces and silly voices to go with them, mealtime really is entertaining with these spoons as his sidekicks! With his busy hands always going in a million directions these spoons are perfect for his eating habits which often consists of him changing colors throughout the meal. Each spoon is designed with a unique groove on the back of the handle so the spoons can rest on his plate without falling into his food.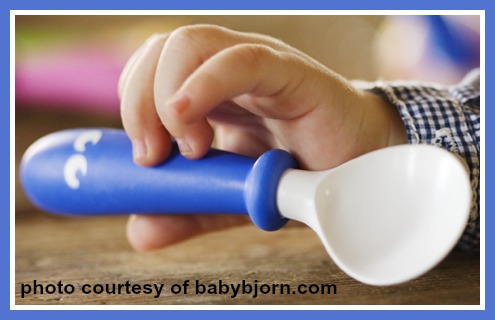 The chunky style is perfect for little hands and is easily gripped even if their hands are slippery from food. The back most part of the spoon is angled so food won't fall out the back while kids are trying to feed themselves and the ring on the bottom of the handle makes it easy for babies hands not to slide too far down the handle if they tend to grip the spoon too close to the food.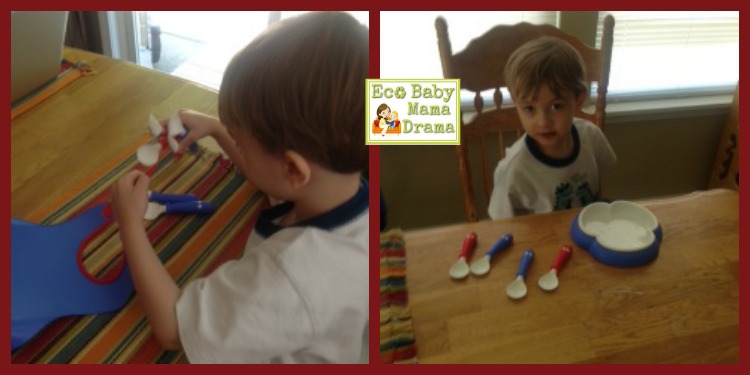 I love that the spoon is easily handled in either right or left hand since young children switch back and forth between hands quite often. You can choose to easily hand wash or toss them in your dishwasher , the only question is how many do you need to buy? Tates loves them so much I have to keep them in each diaper bag and my purse so we have them everywhere we go!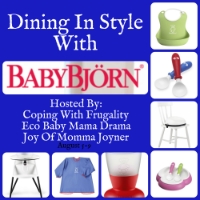 This is just the beginning of a week long adventure with BabyBjörn! Dining in Style with BabyBjörn kicks off today and each day this week myself and co-hosts Amanda from Coping with Frugality and Courtney from Joy of Momma Joyner will feature one of BabyBjörn's dining/feeding products so you can see their wonderful selection. At the end of the week we will have 3 fabulous prize packages focusing on each stage of feeding for kids:
Baby Package offers their great High Chair ($299.95 Value)
Toddler Package includes: Smock, Bib 2-pack, 2 Cups, 2 Plate & Spoon Sets ($136 Value)
Preschool Package includes: Booster, Smock, Plate & Spoon Set ($140 Value)
Do you have any BabyBjörn spoons

 yet? Which colors are your favorite? What is your favorite feature of these wonderful spoons?


Leave a comment HERE, at Coping with Frugality and Joy of Momma Joyner on our SPOON reviews and get your "extra entries" done early for the upcoming giveaways!