Okiema is the mama behind Cloth Baby LLC and is not only very passionate about cloth diapering and the planet but was also a cloth diapered baby herself along with her 4 siblings.  Taught at a very young age to care about the planet Okiema believes in the three R's: Reduce the amount of disposable diapers you are using buy buying cloth diapers, you are then able to Reuse them after every wash, and Recycle them for you next child.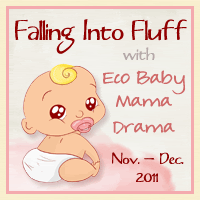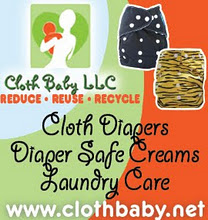 Okiema generously sent me a one sized Tiny Tush Trim fitted cloth diaper, one sized sage colored Tiny Tush diaper cover, 2 Tiny Tush Perfect Diaper Wipes and a bottle of Rash Magic Wipe Solution!  That is a wonderful fluff package huh?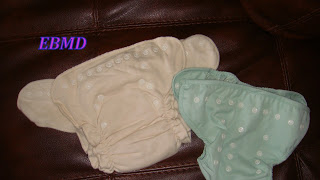 Let's start with the diaper and cover.  I love that they are both one sized and snap closure!  The diaper is only available in snap closure although the cover (PUL) is available in aplix as well.  Each has a snap down rise and one row of snaps for closure.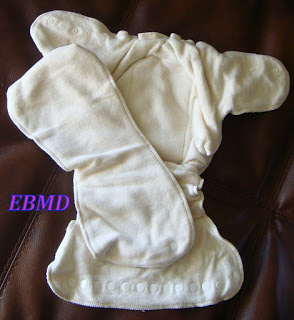 Our diaper is natural color with matching snaps (diapers available in several different colors) and has a snap in liner that is actually a contour diaper itself which means you can use it in a cover alone for a newborn.  The very trim liner allows for maximum absorbency without adding bulk.   The diaper and liner are made of 100% cotton and really surprised me how absorbent they are.  I add a thin hemp insert for overnights and naps however regular daytime wear this diaper does not require a cover in our house.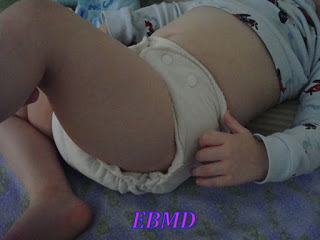 The diaper is super stretchy and even with an extra insert fits Tates great, he last weighed in at 28+ pounds and as you can see still has ample room in this diaper.  The elastic is super gentle and never leaves a mark.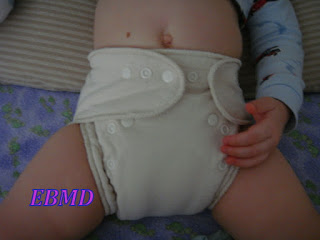 The diaper is a bit wider in between the legs so Tates waddles a bit and the cover is too.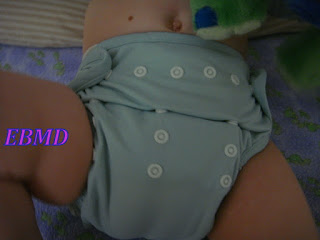 The cover fits Tates with one rise snap down still which is pretty rare considering his size almost all diapers and covers at this point are fully unsnapped however this cover is on the larger side.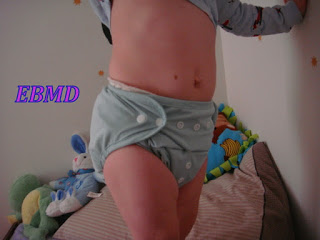 With the rise still snapped down Tates is on the last two snaps on the waist.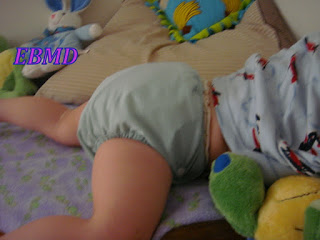 Both of these action shots of this wiggly little guy show how trim the diaper really is.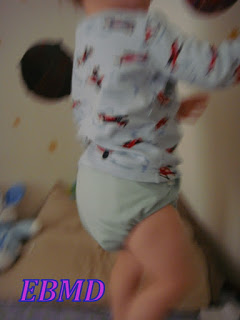 Although I really like the cover I did run into a problem with it, not long after I got it the material around the back elastic came apart (the threading) leaving the elastic exposed.  Although Tiny Tush did warranty the cover and repair it for me I wasn't very happy that I had to cover shipping costs on a defective item.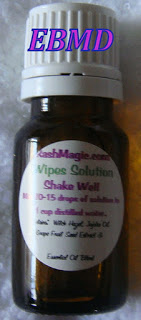 The solution is amazing smelling with a blend of soothing essential oils and has a healing power for rashes that surpasses any expectations you might have.  The jojoba oil moisturizes babies tush wonderfully.  Tates has been teething and therefore experiencing a slight rash and I love using this on him knowing how it won't irritate his skin.  Simply mix 10 drops of the concentrate with every cup of (distilled) water and you are ready to go.  You can use it in a squirt bottle or mister or dump over wipes in a warmer like we do.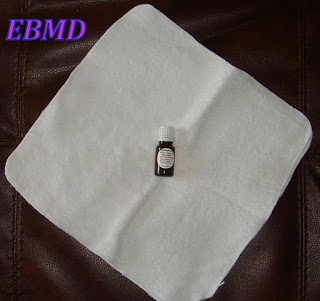 I adore the wipes Okiema sent me!  The wipes measure 12″x 12″ and with the purchase of the solution you will receive two wipes!  These are the largest wipes I have seen and can seriously handle any mess, a few of these are you are set!
You can purchase all of these wonderful goodies along with several other brands at Okiema's online shop, Cloth Baby LLC.