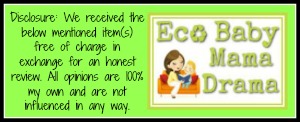 When it comes to baby gear every parent wants the best for their little ones but we also want things that won't take a rocket scientist to operate right? BabyBjörn graciously sent us the Travel Crib Light 2 & Organic Fitted Sheet to try out and share with you all and I tell you what I can't wait to use them on our next trip! Honestly it is perfect for travelling but we are getting use out of it at home daily too.

Where do I even start? I am loving everything about this lean mean travel machine! When the BabyBjörn Travel Crib Light 2 is folded the dimensions are only 19 x 24 x 6 inches and included is a sleek travel case with nice length handles for easy carrying. It's almost like a large briefcase, and weighing only 11 pounds (with the case!) makes it super light and easy for even older siblings to help out with packing up! This isn't your typical pack-n-play that is dreaded to use ;).

Setting up your Travel Crib Light 2 is a cinch, literally I didn't even need the directions and I am NOT great at putting things together (lol). No need to figure out which side to pinch, bend or pop into place, no such hassles here! Simply pop open the crib, lock the legs in place then put the included plush mattress in the crib. Ready for baby! Breakdown is just as easy, remove the mattress pad, flip the travel crib over, release each leg (doesn't require a workout!), fold  each leg in an X shape, then fold the entire unit in half.  It then fits inside the carrying case with the mattress too. Done, ready to go!

Easy to use, super compact and nice looking to boot…..but is it comfortable? Lots of traditional pack-n-plays have hard board/wooden mattresses with little padding. The BabyBjörn Travel Crib Light 2 has an ultra plush mattress that is thick, insulated, hypoallergenic and very comfortable. It is designed to keep the crib firmly on the floor and safe for baby. How do I know how comfy it is? Tates wants in it ALL THE TIME. He doesn't want out! He wants to play, snack and eat in it! LOL, he is a huge fan and obviously so am I!

Your BabyBjörn Travel Crib Light 2 can be used from newborn to approximately three years old meaning you will get tons of use out of it. I love the inward slope style of the mesh lined sides, almost as if it is scooping your baby up in a hug. Since you will be using your Travel Crib tons, the folks at BabyBjörn made the fabric not only strong but functional, you can easily take it off and toss it in the washing machine! Hello fabulous! Kids are MESSY and BabyBjörn wants to make sure your families investment is the safest and most likely the cleanest on the block ;).
The BabyBjörn Fitted Sheet for the Travel Crib Light 2 fits perfectly on the mattress and inside the bag for travel and storage. It is machine washable and comes in a gender neutral white color to match all the colors offered for the Travel Crib 2. My favorite part is that it is made from super soft organic cotton and guaranteed free from hazardous substances, perfect for sensitive little skin.
You know you want one for your home, the only problem now is which color will you choose? Make sure you check out the BabyBjörn website for more information, there is an awesome video of the Travel Crib 2 plus lots more fabulously functional BabyBjörn products. You can purchase your very own Travel Crib Light 2  on Amazon.
Make sure you enter to win a Travel Crib Light 2 below! Good Luck!