Welcome to the Funky Fluff Fall Festival hosted by Eco Baby Mama Drama and Mama on a Green Mission! If you love fluff, are curious about fluff or know someone who fits that description, you are in the right place!! The Funky Fluff Fall Festival is a two week event all about Funky Fluff cloth diapers!
There is one grand prize package that includes 6 Funky Fluff diapers (either bamboo, stay dry, or a combination) and 1 Funky Fluff wet bag! That's a value of $120+!!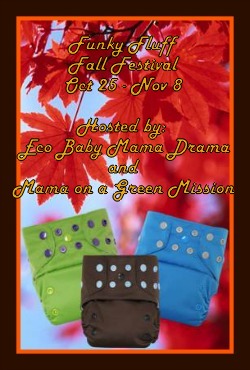 Enter to win this wonderful package below and during the two weeks be sure to come back each day for an added entry! Ten fluffy lovin' blogs have come together for this event and each day one blog will post a review about their experience and their thoughts about Funky Fluff diapers. Visit that blog and leave a comment and collect the additional entries for that day!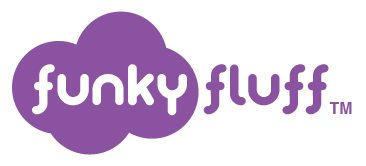 The schedule of reviews is as follows:
Friday, October 26 - Mama on a Green Mission
Saturday, October 27 - Eco Baby Mama Drama
Sunday, October 28 - A Year with Mom and Dad
Monday, October 29 - Happenings of the Harper Household
Tuesday, October 30 - Crunchy Beach Mama
Wednesday, October 31 - Mama Chocolate
Thursday, November 1 - Our Kids Mom
Friday, November 2 - Mommy of Two Little Monkeys
Saturday, November 3 - Coping with Frugality
Sunday, November 4 - Children Teaching Mama
After all of the reviews are posted you'll have a few additional days to get around if you've missed any reviews because the event doesn't wrap up until Thursday, November 8!
~WINNER~ Chelly
Eco Baby Mama Drama, Mama on a Green Mission and all other Funky Fluff Fall Festival bloggers are not responsible for sponsors that do not fulfill their prizes.