I was on a natural high all week from my last update and was full of energy for our big move from an apartment to a house, but boy is a move exhausting! I honestly haven't worked out once but the staircase and getting settled sure has had me working! Thank goodness I have had YUMMY Nutrisystem food to keep me well fueled ;).

The big moment, weigh in….I am up .6 pounds bringing my total weight loss to 4.4 pounds. Although I gained weight I am not going to be too hard on myself. I broke a sweat several times this past week and was very active (lifting boxes and up and down stairs hundreds of times) so I am hopeful the small gain is muscle. My clothes feel like they are fitting loosely still so I don't want to feel discouraged!
You can follow my progress each week during Trim Down Thursdays, let's talk TRIM! What are you doing to trim down and be healthier? I'd love to follow your progress, make sure to leave me a comment and I can visit your healthy living post!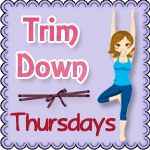 Want to lose weight and get healthy on Nutrisystem? Join today by calling 1-888-853-4689 or by visiting Nutrisystem for more info!