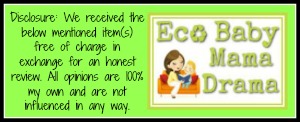 Recently a close friend of mine who just gave birth to twins told me she wanted to cloth diaper. Of course I was elated and wanted to help her in anyway I could. She expressed an interest in 'easy' cloth diapers so of course I recommended AIO's (all in one cloth diapers). Having the pleasure of recently being introduced to the Bumkins all in one cloth diaper I shared with her how much I really like it!

The outside of this one sized diaper is very a soft waterproof material made from PUL with TPU that boasts really adorable solid colors and prints, ours is inspired by Dr Seuss. The wide two rows snap closure offers a wide range of sizes and crossover snaps for accommodating really small waists. The easy to use snap down rise system offers quick adjustment for quickly growing babies all the way through toddlerhood and is designed to fit babies from 9-35 pounds. The two hip snaps are great for preventing wing droop.

The inside of the cute diaper is my favorite part, it is so unique. The sewn in insert actually has the option to snap in the front pocket style opening to keep it in place or leave unsnapped and stuff in extra inserts for additional absorbency. This design offers a super efficient drying time for an AIO. The all natural insert consists of a 2 layer blend of cotton and bamboo rayon making it very absorbent and soft against babies delicate skin. The surrounding material is stay dry fleece which is great for babies comfort.

Tates is actually larger than the weight range on this diaper at over 36 pounds however there is still a few snaps on the waist that he could even be larger and it would fit. The leg and back elastics are super soft and stretchy yet strong at holding in messes. We have to cover the hip snaps when he wears the diaper to avoid exposed snaps on his skin which did occasionally mean we experienced some wing droop however not always. This diaper is super trim! At a regular retail price of $16.95 this is definitely a wonderful option for an all natural choice for an all in one cloth diaper.
Get to Know Thanks Mama!
Thanks Mama is a family owned and operated natural living store located in Boston, MA. Offering a great selection of cloth diapering products including potty training pants and swim diapers as well as a knowledgable staff to assist you in all your natural lifestyle needs. Baby care products, baby carriers, bibs, toys, nursery furniture and bedding, and strollers are just a few items you will find while browsing. Offering innovative products that are good for baby and the environment while keeping in mind most families are on a budget if key. That's why Thanks Mama offers the Lowest Prices, Free Shipping on orders over $60 within USA, 90 days easy returns; Buy Safe Guarantee and Price Guarantee. Guess what? Thanks Mama ships worldwide too!
Stay social and keep up on cloth diaper news, natural parenting discussions, and a variety of giveaways and contests by following Thanks Mama on Facebook, Twitter and Pinterest.
Thanks Mama is offering one lucky reader a $25 gift card to shop for their favorite items! Tell me, what would you buy from Thanks Mama if you win?