When my son was little, I ordered a SnuggyBaby wrap because I loved how beautiful and varied the patterns were that they offered for a center panel. The printed center panel made it quick and easy to find the middle of the stretchy wrap to get it placed correctly and put on quickly; plus, it was super cute!
Lucas was super cozy in it from the very beginning and loved being worn, which made my life so much easier as a first time, brand new mom!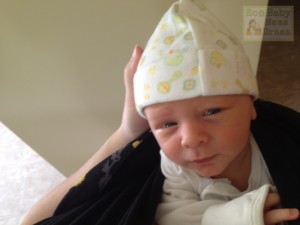 I loved that wrap and wore it until my son was around 5 months old when I began my search for a soft structured carrier. During that search, I also tried a linen ring sling in a gorgeous tiek navy blue. It was SUCH a pain to figure out! I couldn't seem to get him in the sling quickly or easily, and as I tried adjusting the tension and spread out the fabric without dropping my kid, I grumbled under my breath at all of those mommas who had promised "a carrier for an easy up!" So, I asked for help and attended a local La Leche League to meet up with a nice momma I'd met in an babywearing online group. She taught me a few tricks to wearing a ring sling that made it much easier and quicker to put on, but I still never reached for that carrier first because I felt restricted on one side, and I never felt like he was truly secure even though he was.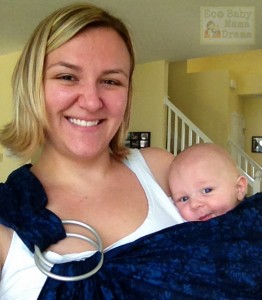 Fast forward to over two years of using soft structured carriers, and I received this opportunity to test out a SnuggyBaby ring sling. After my overwhelmingly positive experience with the brand before, I figured I might as well give it a try. The problem? I now had a 30 lb almost 3 year old.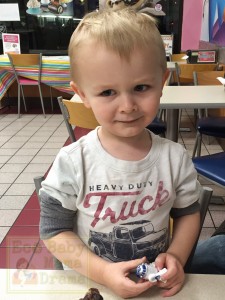 How was it going to feel carrying that hoss in a ring sling?! Would he fit? Would he be comfortable? Would I be comfortable? I have a second baby on the way, so I figured even if it didn't fit him, I'd have another chance to try it out with a smaller baby now that I knew what I was doing! So, I said yes.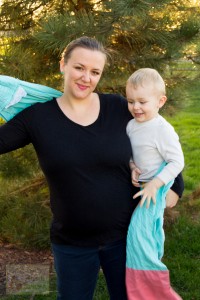 SnuggyBaby Ring Sling:
Pros:
-It DOES make for really quick and easy carries IF you know how to put it on and adjust it well.
-SnuggyBaby makes great video tutorials to help their customers learn how to use the sling appropriately and safely, and those video tutorials come with the sling!
-The fabric is bright and beautiful.
-The fabric is THICK- much thicker than the linen sling I had before. The weight of the fabric makes me feel like Lucas was MUCH more secure!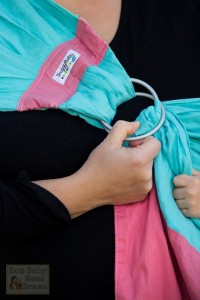 -The aluminum rings are super sturdy- enough so that I felt comfortable trusting them to hold the weight of my 30 lb toddler!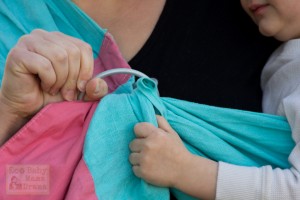 -I could carry my 30 lb toddler relatively comfortably! I was really impressed!
-Lucas said he was comfortable too!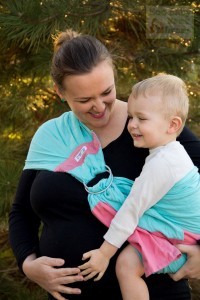 -Carrying my toddler on my hip is my preferred position right now since I'm 18 weeks pregnant, and I don't enjoy having the waist belt of my soft structured carrier digging into my midsection. So being able to easily carry him on my hip was a huge plus!
-SnuggyBaby is a company local to Indiana where I live- support local businesses, y'all!
-SnuggyBaby is a relatively small company, though quickly growing- support small businesses, y'all!
-I got to meet a SnuggyBaby representative in person in Chicago at MommyCon this year, and they were just as nice and helpful in person as they have been online.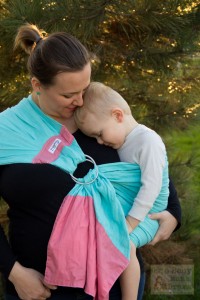 Cons:
-A ring sling sort of puts all of the restriction on one arm. The way it is worn, it puts weight on one shoulder where the rings adjust and spreads the weight over your back as long as the fabric is spread wide over the shoulder. I didn't feel like I could really lift that arm up to put glasses away in the cupboard without sliding the sling up onto my neck, causing major discomfort and requiring adjusting. I had the same problem with the last sling I owned, which is part of why I didn't reach for it. It's not a crippling issue; it's just annoyingly inconvenient for someone who is such a multi-tasker like me.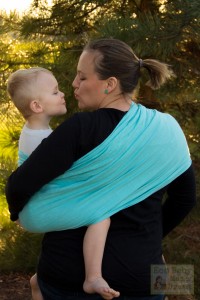 -I didn't feel like I could spread out the fabric very well along my back to make it comfortable the first time I wore it, but that did get easier.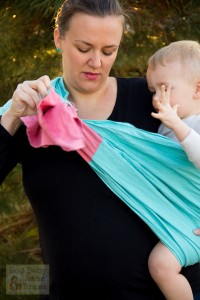 -I also had a heck of a time adjusting the tension- the fabric was so thick that it was hard to pull it through the rings to adjust the tension on the top of the rail. I washed and dried it twice to try to soften up the fabric to make it easier to adjust, but it didn't help as much as I would like. I think after a few more washes might soften it up enough to make this easier.
-The end result of not being able to adjust it easily was that the rings were much further towards the center of my chest than they should have been, but it was the most comfortable way I could get it to tighten while holding my kid.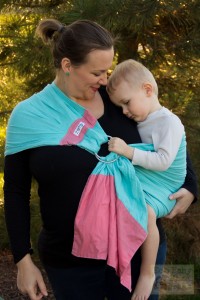 So basically, this ring sling is WAY better quality than the one I had before: it's thicker, prettier, and sturdier, but I've discovered that ring slings are still just not my thing. However, I was incredibly impressed with its quality, durability, and ability to hold my toddler!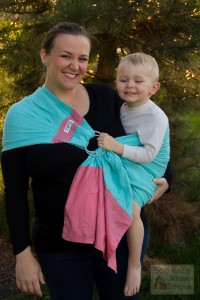 If you are a ring sling kind of gal, I highly recommend Snuggy Baby Ring Slings! And if you're in the market for a wrap, don't be ordinary- get a Snuggy Baby wrap! Way prettier and easier to use!
Happy babywearing/toddlerwearing mamas!