When you are trying to be Green there can sometimes be an initial investment cost that some people find tough to swallow. Sometimes there really are some simple solutions that just about anyone can do and not even notice the impact on your wallet, investing in a Thermos container is definitely one of those easily made changes. Thanks to the folks at Thermos for sending us some great containers to help us go green!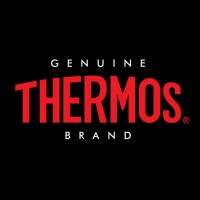 Founded in 1904, Thermos L.L.C. is the leading manufacturer worldwide of insulated food and beverage containers, children's lunch kits and other innovative consumer products and a pretty commonly trusted household name for a reason….they know what they are doing and do it well.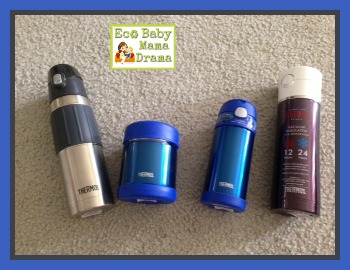 We were sent a wonderful selection of Thermos goodies to try out and help my boys and myself have some great reusable containers we can use everyday. We were sent the Vacuum Insulated Hydration Bottle in Plum, Vacuum Insulated Stainless Steel Hydration Bottle, and the Blue 12 oz FUNtainer™ Bottle and Food Jar.

The plum colored Vacuum Insulated Drink Bottle is definitely the beverage container for this mama! I absolutely LOVE the unbreakable stainless steel exterior shade of deep purple and when my boys fight over sharing sips of moms drink I have no worries if they drop it! And with the 16 oz. stainless steel interior capacity there is room enough for sharing whatever I'm drinking ;). It also comes with a cool loop on the back of the lid to make it easy for me to attach it to any bag I am carrying.
No need to worry about the nice white sip spout staining, it's BPA free and stain resistant plus the unique leaf proof smooth flow design helps control the flow of liquids. This bad boy boasts double wall vacuum insulation which allows hot liquids to stay hot for up to 12 full hours and cold liquids to keep cold for up to 24 hours, A-M-A-Z-I-N-G. Available in several colors to suit your taste this awesome bottle is a must have!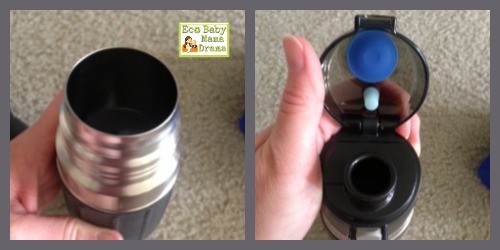 For my teenager T-Bone being on the go and active in sports everyday the Stainless Steel Hydration Bottle is a winner. The unbreakable stainless steel interior and exterior are great for the tough on everything kid in your family and the sweat proof design and comfortable rubber grip will make it their favorite bottle. TherMax® double wall vacuum insulation keeps their favorite sports drinks and water cold for up to 12 hours, that's 10 times longer than the average plastic water bottle! The wide mouth of the bottle makes it easy for kids to fill up on their own and the push button sipper lid with locking ring make sure there are no leaks when tossed into a gym bag or locker ;).

For the little ones in your life Thermos offers a wonderful line of colorful and character themed containers called FUNtainer™. These containers are simply wonderful for kids, unbreakable yet super easy to use so your little can be BIG. I love how easy the bottles are to clean and assemble, three pieces come apart and can be put back together in seconds to ensure a thoroughly germ free cup for your kids and piece of mind for mom. There is also a flip up carry loop for little hands to use all by themselves!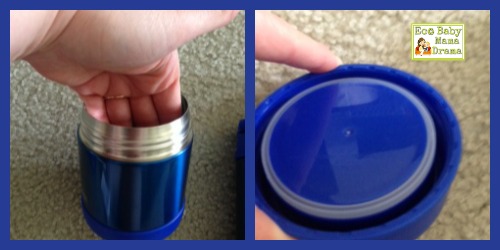 The Food Jars are a must have for families on the go. They can hold hot or cold items so you can have some chilled fresh fruit snack or a nice hot soup lunch while out with the kids at the playground or at a play date. The extra wide mouth is easily filled by little helping hands in the kitchen and perfect for kids to share with friends when eating. The lid is designed with busy parents and active kids in mind with a seal that keeps contents inside where they belong.

Thermos is on a mission to green your lifestyle and keep containers out of landfills! National Fill Your Thermos Brand Bottle Day is Thursday, May 23! What are you going to do to participate? We are using all our Thermos containers and pledging to not use disposable containers whenever possible!

To help you participate Thermos is hosting some wonderful giveaways to celebrate National Fill Your Thermos Brand Bottle Day, make sure you head on over to their Facebook Page to show your support and enter to win some fabulous Thermos Brand Products!