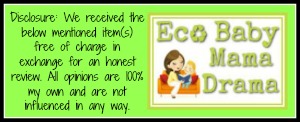 Every cloth diapering mom (or dad!) will tell you that you have to have a wet bag or pail liner. The choice is really personal preference as both are effective ways to contain dirty diapers between washings. We chose to use wet bags as when we began our cloth journey space was an issue for us, living in a small apartment we simply hung our wet bags on Tates door handle or placed them under his changing table (custom built by my wonderful dad!). I'm really excited to share my new found favorite cloth diaper storage option, the GroVia Perfect Pail, the name really says it all…it is PERFECT for our needs!

Available in 3 fun colors to coordinate with your decor the surf (blue), cloud (grey) and vanilla (cream) colored pails stay bright wash after wash. The pail is very easy to care for, simply toss it in the wash with your diaper laundry then hang to dry or tumble on low.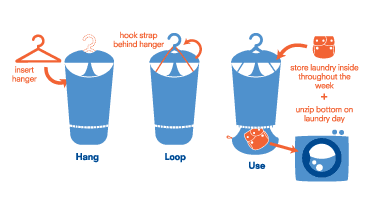 Constructed of 100% TPU, the uniquely designed Perfect Pail is very similar to a wet bag in the fact that it has a zippered closure and keeps smells contained however this is NOT you average pail or wet bag. You insert a sturdy hanger which is secured by 3 strong signature GroVia snaps and given extra support by an extra strap that hooks over the hanger to hold your heavy soiled diapers. The Perfect Pail is very large (Approximately 26 x 18 inches) and designed to hold up to 3 full days of diapers, it is pleated to maximize storage space ;).

Being a huge fan of grey I chose the cloud color to use and it has made cloth diapering even easier for us! The super easy to use pail hangs on Tates door and even allows him to help clean up after changes. The awesome self closing top allows for one handed dropping of dirty diapers into the pail for storage until laundry time, Tates loves to 'slam dunk' his wrapped up diapers lol :).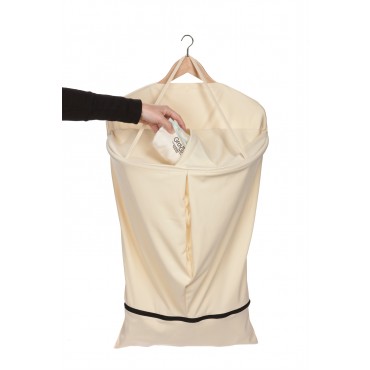 Love to cloth diaper but despise laundry day? This is definitely the Perfect Pail for you! Simply unzip the bottom of the Perfect Pail and let your dirty diaper laundry drop into the washing machine, no need to get your hands dirty! Now anyone can help you with your cloth diaper laundry and who doesn't love that?

You can purchase your own GroVia Perfect Pail in every color directly from the GroVia website or from your favorite cloth retailers. One very lucky reader is going to win one right here thanks to the generous folks at GroVia!
~WINNER~ Breanna R