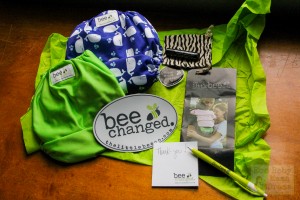 The Little Bee Co. sent me one of their Bee Changed One Size Ultra Cool Pocket cloth diapers as a prize from a contest on their Facebook page. They also sent me a free Bee Changed Swimmer (formerly known as the Aqua Bee swim diaper) for review purposes. Although I received these items for free with intent for reviewing them, all of the following opinions are 100% my own and are not influenced by the company itself.  
"According to all known laws of aviation, there is no way a bee should be able to fly. It's wings are too small to get its fat little body off the ground. The bee, of course, flies anyway, because bees don't care what humans think is impossible." ~ Bee Movie  
First, I LOVE this company. Everything about their mission and their business practices makes me feel proud to own one of their products. While it's not always a necessary feeling to have about a company I purchase from, it's definitely a huge bonus. I know they are responsible business owners and consumers, and in turn I feel responsible and proud to use and purchase their products in the future.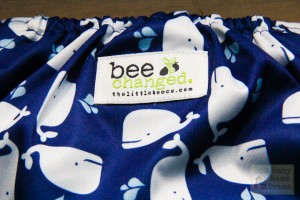 I discovered The Little Bee Co. when my cousins were adopting their son from the Democratic Republic of Congo. She was interested in cloth diapering him when he came home, and when she found out about Little Bee's mission, she knew she wanted to support them! When I became pregnant with my son, I too wanted to help their mission, so I registered for a bunch of Little Bee newborn diapers, and my cousins came through for me! Later when we were searching for one size diapers and a swim diaper, I discovered that Little Bee also makes those as well!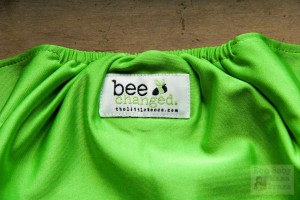 Owner Jona and her sister Paula are hard workers accomplishing impossible feats in the world of sustainable cloth diapering. They not only run a company that sells modern cloth diapers using sustainable materials in stunning colors and adorable prints, they also run a charity that provides diapers for children all over the world. You know how the shoe company Tom's has a one to one program? You buy a pair of shoes and they donate a pair to a person who needs them in another country? The Little Bee Co. does that with diapers, with every single purchase! The Little Bee Co. also donates diapers for the same purposes to the charity Jake's Diapers! On The Little Bee Co.'s website, Jona explains the how and why for their giving as a company, and how they do more than just donate diapers: 
"With every diaper purchased The Little Bee Co will provide a diaper to a child in need. Once enough diapers are collected for each baby in a specific facility, a "Diaper Drop" is organized to deliver the diapers and help in the education and assistance of caregivers with the transition to modern cloth. Many times babies wear split pants, rags, even plastic bags. This is not because those caring for them don't care, it is simply because funds are limited. When it comes to spending, food and medicines trump diapers. Because of this, a vicious cycle ensues as the spread of disease created from improper diapering and bed sharing causes an already bad situation to be far worse. It is our mission to provide this very necessary resource to those in need. Our passion is focused not only on orphan care but prevention as well. In working with medical facilities, family centers and malnutrition rehabilitation units we are able to help in the empowerment of parents in poverty stricken areas because we believe children belong in families!"
What did I think?
The OS Ultra Cool Pocket Diaper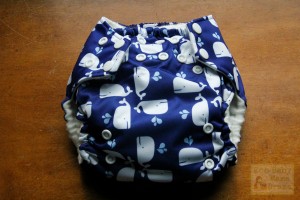 The interior is a rayon blend (bamboo) with certified organic cotton and polyester; the light and soft material allows for quick wicking power and a fast dry time. The exterior is waterproof PUL (polyurethane laminate- chemical bonded polyester laminate) which is the most common exterior material for modern cloth diapers. The diaper comes with two contoured microfiber inserts that snap together as well for customizable absorbency.  
The OS diaper is made to fit babies 8-35 lbs, and in my opinion fits in a similar way to
Rumparooz
- great for babies with skinny legs and narrow waists and fits best in the lower end of the weight range. Lucas is pretty close to the end of that weight range, so he's on almost the very last snap option on the diaper, but it still fits, it's just not my favorite fit. Had I owned this diaper when he was an infant, I would have been able to get way more mileage out of it!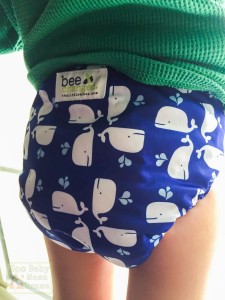 I'm also not the biggest fan of microfiber inserts simply due to compression leak issues, but these have worked out great, and we've not had any problems.   The wide pocket made it easier to stuff than other brands I've tried, and it has held up exceedingly well through several wash and wears over the past few months. I'm really impressed with the quality of the construction!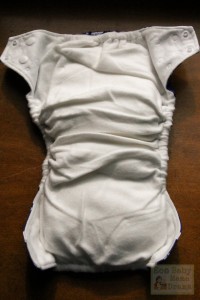 At first I wasn't sure if I'd like the stay cool material on the inside of the pocket because I'd purchased a bamboo pocket from Little Bee before and found the interior to be a little stiffer than I'd like with a high drying time. However, this material did NOT disappoint! The interior was a little stiff when it was brand new but softened quickly and has continued to soften over time. It looks a little pilly now, but that's completely normal for an item of "clothing" being worn all the time, and it doesn't affect function in the slightest.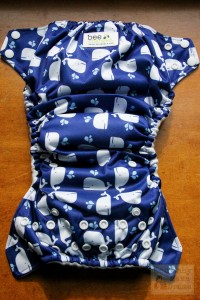 Plus, I LOVE this whale print! When Lucas was little, I bought so many whale themed clothes, so it's a nostalgia thing for me.
♥
The Swim Diaper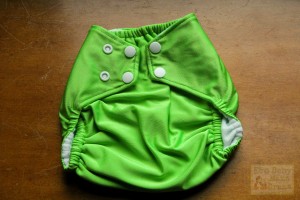 The Little Bee Co's swim diaper is called Bee Changed Swimmer (formerly known as the Aqua Bee), and it is far and away my FAVORITE swim diaper in existence. The colors are vibrant jewel tones. I've seen the green and blue in person, and both are just gorgeous. I can't wait to order their new color Tahitian Tiki for this summer! Apart from how gorgeous they are, they are the most functional swim diapers I've tried.  
A swim diaper is meant to contain fecal matter. That's it. There is no absorbency to it to contain pee because any absorbency would just suck up the pool water/ocean water and weigh baby down (not a good thing, obviously). So, this diaper is thin and trim but stretchy and comfortable, made of polyester and spandex.
They snap on just like a regular cloth diaper, so there's no learning curve there; plus, if your kid does use the diaper for what it's made to do (contain a code brown from ruining everyone's day at the pool) you can unsnap it and change baby without needing to slide the diaper down their legs and cause a huge mess! (Uh, ew!)
They do come sized, but I've found that one size has lasted us two summers worth- definitely worth the money!
 I have nothing but good things to say about this swim diaper, and I recommend it to everyone I know!  
If you're still using disposable swim diapers, STOP and order yourself one of these bad boys and get free shipping on the purchase of any Bee Changed Swim Diaper using the code: SWIM .
So it's LOVE for the swim diaper and like for the OS pocket, but only because my chunkamonk is getting too big for it. The quality and construction and longevity of both products is fantastic, and I would recommend purchasing from this incredibly giving company without hesitation.  
I hope you consider giving The Little Bee Co a try to "Bee Changed" and change the lives of those less fortunate in the process.