With the latest releases from GroVia in Wool Care as well as the Kiwi Pie Fitted cloth diaper you might be thinking what else could they possibly come up with? Well leave it to them to bring the original form of cloth diapering (prefolds) to a whole new level! I'm excited to share today another all new product from GroVia, the Bamboo Prefold.

I'll be honest we tried prefolds a long time ago as our main cloth diapers and they weren't for us….my husband got frustrated all the time, and pins/snappis scared me (I poked Tates) and we ended up getting rid of them. The more educated I became about cloth diapers the more ways I learned to use prefolds and when GroVia introduced BAMBOO prefolds I was immediately ready to get my hands on them!
Made of 55% bamboo/45% organic cotton these versatile diapers are super soft. Stamped so you don't have to worry about any tags against babies delicate skin and neatly serged with threading to indicate sizing and ensure durability wash after wash. Sold in 4 different sizes to accommodate babies from as tiny as 4 pounds through 25+ you can really get a great fit from birth through potty training. Each 3 pack of prefolds is very affordable, so you can have an all natural stash without breaking the bank.

I mentioned we tried prefold before using the folding and pinning/snappi method however now we use them trifold soaker style as pocket stuffers. This is a great solution for heavy wetting children, we still get to use pre-stuffed pockets only we have an all natural super absorbent soaker.
We tested out the yellow threaded (size 3 - infant long) size and after over a dozen washes they are roughly 13 x 15 inches and fit well in most of our pockets. Tates is fully unsnapped on almost all diapers at this point and the prefolds fit great inside with no overflow out the openings.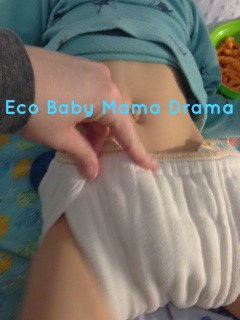 Although these aren't the most trim option when trifolded they aren't bubble bottom by any means, and are a great affordable option to replacing microfiber inserts in your stash. 😉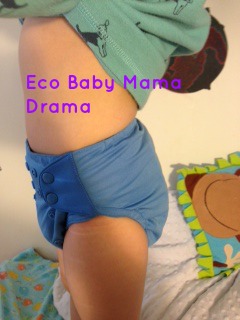 These diapers wash up easily, dry fairly quickly and sun easily as they lay flat. If you like to use them in the more traditional sense but aren't a fan of pins/snappis you can easily fold and use a snug cover to hold them in place for a trim fit. If you prefer a stay dry feeling for baby you will need to add a fleece liner.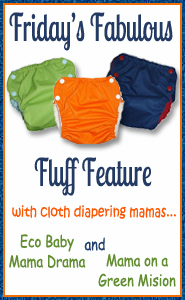 Buy It: You can purchase GroVia's Bamboo Prefold cloth diapers in all sizes directly from the GroVia website.
Do you use prefolds, if so how?
Win It: One lucky reader is going to win a 3 pack of Bamboo Prefolds in their choice of size! Thanks GroVia!
~WINNER~ Nikki C